Podcast: Play in new window | Download (Duration: 1:09:58 — 96.1MB) | Embed
Subscribe: Apple Podcasts | Google Podcasts | Spotify | iHeartRadio | Stitcher | Podcast Index | Email | TuneIn | RSS
As I launched this artist series, I couldn't imagine starting with anyone other than my beautiful, eloquent and talented friend Paloma King. She is a painter from Belfast and her work, in my opinion, is reflective of how I know her as a person. It's a time-tended infusion and revealing of layers upon layers of experience, light, color, wisdom, texture and life. I was nothing short of mesmerized while listening across the world during her interview.
Here is one sample of her work and I encourage you to visit her gorgeous website to view her collection, find out where you might see her work and read other equally captivating interviews with this fascinating and inspiring woman.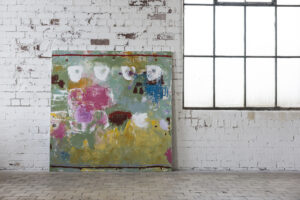 Where to find Paloma:
WebSite: https://www.palomaking.co.uk/
Instagram: paloma.king.painter
The Artist Series:
This podcast has always been my space to shine light on people who are inspired – whatever the focus – and taking action. In the past 6 years, I've shared stories with artists, activists, athletes, entrepreneurs and engineers. Many times, those I sought out to interview were discovered from my own curiosity and research. This particular 12-month series will focus on visual artists as I seek to learn more about how artists create, what inspired them to create and hopefully, bring to the surface more about my own yearning for a new artistic outlet. I hope you enjoy these stories and feel inspired to create as well!