Podcast: Play in new window | Download (Duration: 1:33:33 — 128.5MB)
Subscribe: iTunes | Android | Email | Google Play | Stitcher | RSS
Frank G. Caruso is memorable. He lights up a room with his quick wit and his mind, in all appearances, seems to be running at more than twice normal speed. His exuberant personality and made-for-radio voice draw you in, even in a noisy, neighborhood coffee shop. What amazed me during our conversation is the subtle ways his creative ideas are born and how he carries and nurtures them until their time arrives.
Our conversation explores:
'Going Great White', Frank's mockumentary about pyramid marketing (super hilarious)
'This is my Sister', a documentary about growing up with Downs' Syndrome in the 1950s
Other projects in the process
Parenting
Dense bones (yes, really)
Growing up in upstate New York
Relocating to Chicago, then California and finally Wisconsin
Where to find him:
Looking forward to doing something like this again…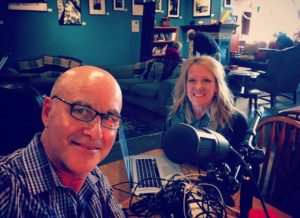 6 degrees of separation
It's one of those magical concepts -- like are we only that far away? Could we stay in touch and keep testing that theory?
Share your email below and we'll see where it goes:)